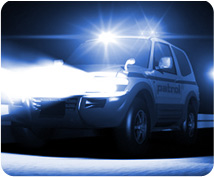 Security Patrol Denver
Spear Security Inc. has decades of experience in providing security patrol services in Denver and all surrounding suburbs. From large events to guarding private residences and businesses to protecting individuals, the team at Spear Security Inc. has truly done it all. So, if you're looking for top notch security in Colorado, contact us today.
We offer top-notch security patrol services for any business interested in security guard service. Hotels, malls, business centers, industrial buildings, and more can all benefit from the safety provided by Spear Security Inc. Each case has its own special needs and that's why we customize your patrol service. We offer armed and unarmed guards, can patrol the interior and exterior parts of your property, use vehicles and private investigation to root out suspected problems, whatever you need to feel your estate is protected.
Another service Spear Security Inc. is proud to offer is courtesy patrol. This type of security patrol is ideal for apartment complexes and other residential spaces that need a regular presence to deter crime and safeguard property. Our apartment courtesy patrol service shows criminals that crime won't be tolerated in your residential space. Often, just a visible security presence is the greatest deterrent for persons planning a future crime.
Spear Security Inc.'s patrol services cover the following types of locations:
Industrial
Commercial
Residential
Retail Establishments
Schools
Hospitals
And more!
Call us today at (303) 298-8373