RESIDENTIAL SECURITY DENVER
Residential Security Services in Denver, Colorado
Spear Security Inc. offers outstanding residential security services for protecting apartments and condominiums. If you own a residential property, protecting it with a top tier security service offers a variety of benefits, especially in terms of protecting both your investment and your peace of mind.
(303) 298-8373
Need security? Call us now!
A Visible Security Presence Can Deter Crime by Itself
It's no secret that simply having visible uniformed security onsite can deter criminals from targeting your property. Most would-be bad actors have no desire to confront authority figures of any kind. Residential patrol security personnel guarding an area motivates troublemakers to look for easier targets elsewhere. At Spear Security, we don't rest on our laurels. Our security teams always stand vigilant against potential threats and, should a situation arise, are always ready to respond appropriately.
High Tech Surveillance for High Security!
For leading-edge residential security in Denver, you can trust Spear Security to keep your property safe and secure. We do that not only with skilled personnel but with the latest in surveillance technology.
Because it's simply not possible in most cases to have personnel in an area 24 hours a day, CCTV can cover locations on a 24/7 basis and our IP (internet protocol) features mean that our in-house team can monitor properties nationwide and contact the appropriate personnel if any irregularities appear. In some cases, personnel can remotely warn intruders that they are trespassing which typically results in a rapid departure for would-be wrongdoers.
In addition to keeping a close watch on your property, we also keep a close watch on ourselves with touring technology that monitors Spear Security personnel to ensure they are performing their duties thoroughly and appropriately at all times. We employ Proxiguard, the nation's premier touring software, to ensure that all actions are performed by the book at all times.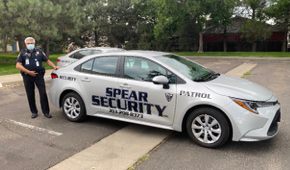 Residential Patrol Security Services: A Smart and Necessary Investment
Apartments with security services are safer, which can be a draw for residents who are able and willing to pay a premium for the reduced likelihood of crime. By hiring our skilled and experienced security teams to protect your residential properties, you're making an investment that your tenants, condominium owners, and others will surely appreciate.
Fire Watch Patrol
We stand by when fire systems go down and the law mandates a 24/7 security presence.
Hospital Security
Healthcare facilities present numerous challenges; outstanding personnel and surveillance technology are essential for the wellbeing of patients and staff.
Residential Security
Skilled uniformed guards and the latest surveillance technology offer the peace of mind residents need and expect.
Condominium Security
24-hour protection to discourage thieves, vandals, arsonists, and other unwelcome visitors.
Construction Site Security
24-hour protection to discourage thieves, vandals, arsonists, and other unwelcome visitors.
2180 E 68th Ave, Denver, CO 80229
Check out our location
(303) 298-8373
Questions? Call us!
24 Hours - All Days a Week
Our common business hours
Need a security service? Describe it!
Providing outstanding condominium and apartment security service for owners and managers from throughout Colorado and beyond, Spear Security Inc. protects your property and residents and offers the peace of mind of knowing you're doing everything possible to ensure the safety of people and property.