You offer your tenants safety and security in a number of ways. There are the inevitable gates and security measures at your front entrance if you manage a residential complex. You may even choose to install cameras if you manage a gated community. But the words "private security" conjures an image of a person walking or driving in a patrol, looking after the residents of an area. When potential clients ask if you have private security, they mean Spear Security. Not only do we see to the overall safety of your residents, but more than our competitors, we show concern for their level of comfort with our agents themselves.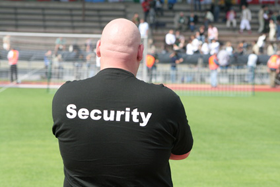 The kinds of people who constitute a potential threat to your residential or retail location aren't the tough and determined crooks you know from television and the movies. In all likelihood, they're desperate and scared, which makes them no less dangerous. Fortunately, they're strongly deterred by the presence of a single security guard in an area. Far from needing to be arrested, or driven away, they'll sense the added challenge involved in the presence of one of our courtesy patrol services, and retreat of their own volition.
That's the best part of the difference we make in your company or residence's overall wellbeing: we don't have to hassle or apprehend anyone in order to have a powerful effect on your security. Moreover, our field agents are extraordinarily courteous and polite to the residents and guests of the area they patrol. The feeling of security you get from employing our private security is matched only by the level of comfort we lend to your establishment. When it comes to choosing private security in Denver, don't settle for less than the very best. Contact us with your questions and concerns.
Denver office: 2180 East 68th Avenue Denver, CO 80229